THIS IS IT, EVERY SINGLE THING THAT WE HAVE SHOVED INTO OUR PACKS AND CARRIED AROUND THE WORLD FOR THE LAST YEAR OR SO. FOR A DEEPER DIVE INTO SPECIFIC GEAR recommendations, CHECK OUT THE NEXT BLOG POSTS.
Going into year 2 we reduced the stuff we bring on our travels, still seeing everything listed here we feel like it could be even less. Ok let's be honest, my side of our luggage could be reduced even more. Sascha has surprisingly few items. I was shocked seeing his stuff listed next to mine. But that's how it is for now. Below you'll find ALL intems we own. not one item left out. Full transparency to give you the deepest insight in what to pack or what not to pack. At least what is true for us at this point in 2023.
It's just fair to mention, that a lot of stuff I carry in my toiletry bag are used by both of us, like the body lotion, sunscreen and so on.
Finally something where Sascha's carrying more than me. hehe. For more Information about our filming and editing gear you can read the article linked below this article.
All the items that don't fit into the upper categories are listed below. Again most items are used by both of us, just carried by one of us. That's why one list is longer. No Item left out. You now know every single item we own. We've also done a blog post about all the items we would recommend and wouldn't want to life without. For more info read the article linked below this one about our Gear recommendations.
If you like to have the full list as a comprehinsive PDF, click the button below.
If you're hunger for packing Lists and gear is not fulfilled yet, see the posts below!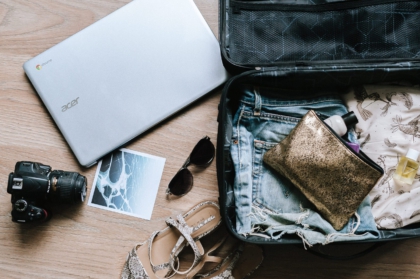 OUR EXPERIENCE SO FAR!​ What to pack for a world travel? This moment when you realize, that you want to…
Have fun exploring the wild wide world and collecting memories!
Do you already know our YouTube Channel? Check out our Vlogs!
If you found helpful advice or just enjoyed reading our articles and watching our videos, it means the world to us, if you support us and our work! We have all options to support us listed on this side:
The items linked here might consist affiliate links. You will not pay more for the products, we will just receive a little commission on what you buy. We hope you got some information out of this article and we are grateful for every purchase you make using the listed links. Opinions expressed on this website are ours alone, and not those of the companies listed above. Additionally, the content on this website has not been reviewed, approved or otherwise endorsed by the companies listed above. We are very thankful for everyone supporting our channel! Seriously it means a lot! Thank you!